We form collaborations with a view to creating a network of partners who are at the top of their respective industries, people with the required experience and skills to help meet our clients' every need.
The relationships we have forged are all part of a broader strategy aimed at increasing collaboration opportunities and exploring new business channels.
INK DIGITAL

INK Experience Design are a marketing and digital design agency developing innovative, creative solutions to inject even more value into the brand experience.
Specialized in Brand Innovation, Digital Business, Experience Design and 3D services in the B2B and B2C domain, they offer marketing, communication, and application and creative content development services.
DIGITAL SPEAKER
Working in partnership with Soget Est, INK Experience Design have come up with the Digital Speaker project, to give localization a more creative face.
Leveraging AI platforms and services, which have reached such impressive levels of quality, Digital Speaker is the ideal service for giving any communication project a voice.
Service description
Digital Speaker is a digital storytelling service that localizes video content with AI-powered voices and faces.
What does Digital Speaker do?
• TRANSFORMS YOUR TEXTS INTO HUMAN VOICES
• OPTIMIZES PRONUNCIATION WITH THE AID OF NATIVE SPEAKERS
• ASSOCIATES A TALKING CHARACTER WITH THE VOICE GENERATED
The digital character can be given various different human appearances, genders and ethnicities, with different types of voices then applied with the aid of AI to reproduce lip movement, in more than 60 languages.
When is it used?
Digital Speaker is perfect in the following cases:
• institutional videos
• tutorials
• reports and presentations
• articles and audiobooks
• direct messages
• chatbots
• feedback
• digital signage
• team updates
• board meeting
• reviews
• interviews
• customer care
• onboarding presentation
With our professionals' magic touch, we create a unique, flexible service.
UNIQUE because we have a team of professionals working alongside AI platforms to cater to your needs.
FLEXIBLE because we have an impressive range of options, which can be adapted to suit any project and budget.
Advertising content
Want to create messages that talk for themselves? By leveraging AI, we give your message a voice in your chosen language. And if a voice is not enough, we give them a human face, too.
VENETEX

Venetex.net is an integrated network designed to facilitate dealings between businesses across the Veneto region, and provide parallel and complementary payment and credit instruments.
Straight away, we could appreciate the advantages and synergies that a network of this kind could offer and, as a result, Soget Est has been part of this project since 2016. Sealing this collaboration, here is a short video introducing our company, aiming to promote both our longstanding partnership and the services that we have been offering our clients for over 35 years.
More than just money
We are part of Venetex.net because we believe collaboration is an essential ingredient for healthy competition. Because we believe in the market as a place for social interaction, a place where our needs and our ability to produce value come together, generating lasting, shared wellbeing.
For each of us, Venetex.net represents a goal and a shared vision: the commitment of thousands of individuals to be part of a community in which relations and mutual trust are the real assets on which to build the economy of tomorrow.
EUROTHAI SERVICE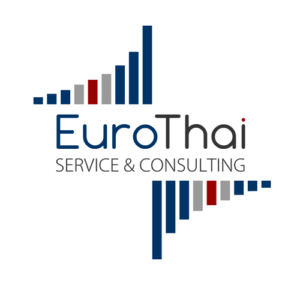 EuroThai Service & Consulting
Firm for all consulting needs in Thailand
EuroThai Service was founded in 2011 in Phuket with the aim of providing business and private consulting services to its customers throughout Thailand.
Since its incorporation, EuroThai Service has had the goal of assisting its customers with the utmost dedication and confidentiality in a familiar and highly dynamic environment.
Business Services
Thanks to the diverse skills of our team, EuroThai Service is able to assist companies and professionals in all administrative and business aspects from initiation to termination of business and professional activities in the Kingdom of Thailand. Interested customers can contact our firm for the analysis of any tax and corporate issues. Our experts will try to provide you with the quickest and most convenient solution.
Some of the services provided: Accountancy service, incorporations, financial statement closings and legal assistance.
Citizen Services
EuroThai Service can also assist you in the entire panorama of services related to private citizens, relieving you of all bureaucratic problems, always with absolute transparency.
Our firm interfaces with the competent bodies, be they the Italian Embassy or Thai institutions, liaising with them until the entire matter has been settled.
Some of the services provided: Visas for Thais who want to travel to Italy, marriages, divorces and child recognition.